This is a familiar scenario:  You have the flooring redone in your Toronto home and then realize that the staircase doesn't match the new flooring.  We can help!
Many people are painting the wood on their staircases in a two-tone colour scheme and it looks fantastic!  Or they paint everything but the stair tread – on that area they have it stained and varnished to match the flooring.
I'll go through the process shortly.  But first, let's define the anatomy of a staircase: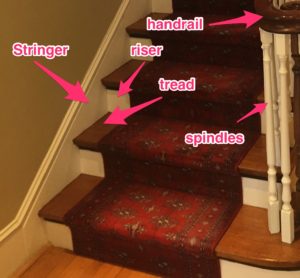 Railing:  This consists of the handrail – what your hand rests on, spindles and posts
Stair tread:  the part that your foot walks on
Stair riser:  the part that your toe inadvertently kicks when running up the stairs
Stair stringers:  the piece on either side of the stairs that holds the whole assembly up
What are our options?
If we want to paint the stairs, here is a typical colour scheme:
dark colour: Handrail, posts, stair tread
light colour:  spindles, stringers, risers
If you want to do both stain/varnish and paint, the stair tread would be stained and varnished and the rest of the colours could be similar to the above scheme.
How do you ensure that the staircase is durable?
As you can imagine, stairs take a beating and it's essential to have the most durable paint on them.
First thing, proper preparation is key:
If the stairs are currently varnished and we want to paint them it's essential that we scuff sand the surface, this gives the primer something to grip on to.
After sanding we vacuum the surface to ensure all the dust is off the surface
We prime the surface with low odour alkyd primer – latex primers don't stick good enough for foot traffic and constant abuse.
If We're Staining and Varnishing
When staining and varnishing the stair tread we need to remove the existing coating all the way down to the bare wood.
Finish Coats:
If We're Painting the Treads
We apply two coats of finish – low odor alkyd paint on the stair tread, which is suitable for walked on surfaces, on the other areas we use a latex enamel suitable for trim.
If We're Staining and Varnishing the Treads and Painting the Rest
Generally we need to apply two coats of stain to get the wood to the right colour.  After we apply the stain we put two coats of varnish on the tread, with a light sand in between coats.
On the other areas we put two coats of latex enamel suitable for trim.
READ MORE:
In conclusion
We'd love to update your staircase, so why don't you book a quote?  CAM Painters will Transform your Home With Lasting Beauty!