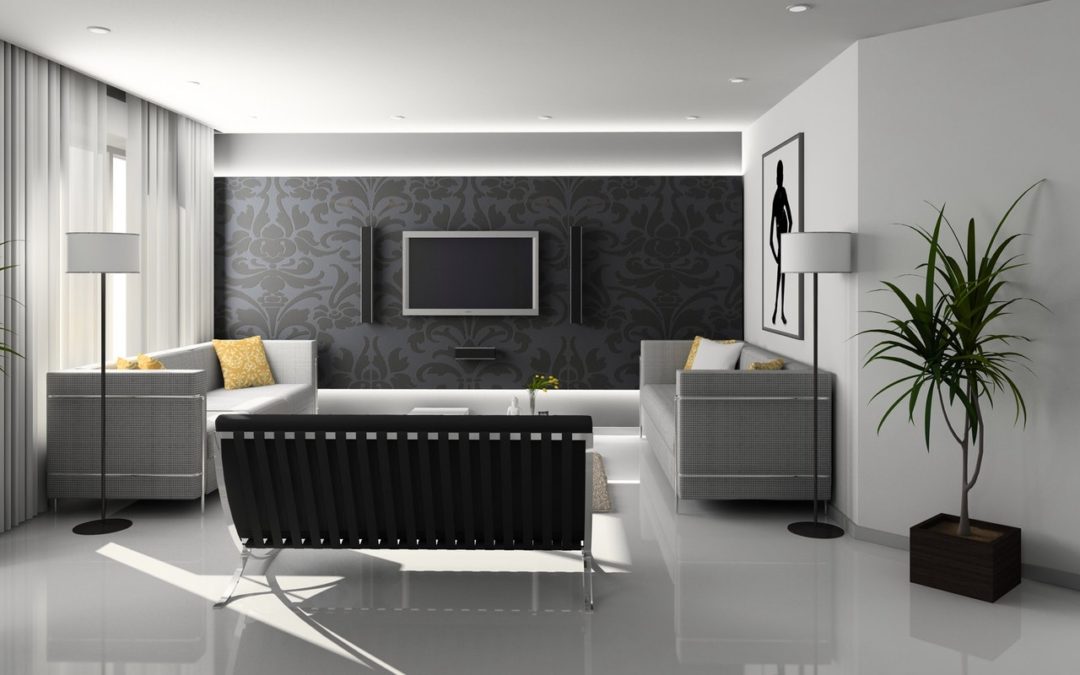 Many people like to have wallpaper installed on the same wall as their TV is mounted, which is a great look for your Toronto home. But this begs the question, should you have the wallpaper installed first, or the TV mounted to the wall first?
To answer this question we have guest blogger Gordon Cameron from TEC.works taking us through the process of installing a TV wall mount on a wall that will be wallpapered. We don't want any extra holes put in our wallpapered wall for fishing wires, so here is Gordon's fool-proof method for ensuring a properly positioned TV that keeps all wallpaper intact:
Getting exactly the right position for a flat panel TV installation requires some planning up front.
Is the screen the right viewing height from your favourite chair?
How many other people join you for movie night, and where will they be sitting?
What about a sound bar? Sound bars typically work best mounted below the screen, but this could push the screen height up if there is a mantle. Speaking of sound, have you sorted the EARC (https://www.hdmi.org/spec21Sub/EnhancedAudioReturnChannel)? If you want good quality audio and depth, EARC is vital.
How are all the wires for the HDMI inputs, power and possibly an optical cable run from AV components to the TV? How will they be concealed? Do you need to buy some heatshrink sleeving for the cables?

You can get answers to some of these questions with a measuring tape, or even a masking tape outline on the wall. But there is no substitute for actually lifting the TV into the approximate position to get a feel for how it will fit with the room. Each of these tape outlines or temporary lifts is an opportunity to scuff up a beautiful wallpaper job. Here is what I'd recommend to get the TV installed where you want it, without damaging the wallpaper:
Determine the desired location for the TV, and then decide what sort of wall mount makes most sense. TV wall mounts can be mounted flat against the wall, tilt out a few degrees from the top, or even swivel and tilt. It all depends on your room and seating.
Mark the studs, install the desired wall mount and then hang the TV
Run all the cabling. Often there are several HDMI cables, power and possibly optical cables, and they all need to be concealed.
Once you are satisfied with the installation, remove the cabling and the TV
Loosen bolts or screws and lags and remove the wall mount
Have CAM Painters work their magic with the wallpaper installation
Install wall mount again into existing holes or lags
Install and level the TV
Rerun and conceal all the cabling
Order pizza and enjoy the movie!
Thanks Gordon for the great advice! Here's a little information about TEC.works:
At TEC.works, we help solve technology headaches for consumers and small businesses. That might mean reviewing consumer bills for cell phones, Internet, TV packages, or home phones and finding less expensive options that are a better fit for your needs. It might mean installing a home theatre system, or a presentation screen in a retail outlet. It might mean troubleshooting WiFi signal strength in a dead spot at your home or business. We'll find the right technology products or services for you, and then manage them professionally. Because you've got better things to do with your time.
READ MORE: Choosing wallpaper for your Toronto home
So if you're planning on having a TV and wallpaper on the same wall, why don't you book a quote? With both us and TEC.works it will be a seamless process! Transform your home with lasting beauty!