Recently we transformed the fireplace in a loft in the west end of Toronto with wallpaper. This wasn't a typical installation and it required more problem solving than a normal wallpaper installation. Let's go through how we did it:
Material requirements
First, we had to make sure that we had wallpaper quantities properly calculated. The ceilings were 18′ high and it was a 15′ drop from ceiling to the top of the fireplace. Usually a double roll will do 3 to 4 drops (the distance from ceiling to top of baseboard), but in this case we were only able to get 2 drops out of each double roll. So, due to the longer drops we required more rolls of the wallpaper than a similar area with smaller drops.
READ MORE: How many rolls of wallpaper should I order for my wallpaper project?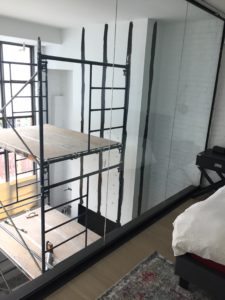 Access issues
The most obvious issue that had to be dealt with was accessing the two storey wall. If the fireplace wall was being painted we could just put up an extension to brush the top edge in and then roll everything else using a roller on an extension pole.
Extension ladders are problematic with wallpaper installations because it has to be set up to one side in order to avoid the path of the strip of wallpaper. This means that the installer has to lean far to one side in order to install a strip of wallpaper, an awkward position to say the least. However, if the painter or installer was to look into a website such as platformsandladders.com for other solutions to reach inaccessible places, they might find various mobile platforms that could be set up in such a way that could make the installation of the wallpaper, to be a much safer and easier process.
Step ladders are generally used on most wallpaper installations, which is fine on ceilings up to around 12′. This particular installation would have required a 16′ step ladder, which wasn't practical to get through condo hallways.
Scaffolding was the best solution. The scaffold frames were 5'x5′, which meant that they could be easily maneuvered through the hallways, and we could have brought them on a service elevator if we needed to. Scaffolding, similar to that from Tiger Scaffolds, can help in many different ways during construction and is a must on any site or building structure. It keeps workers safe while enabling them to reach the highest points of a building. It can be used over and over again and can withstand all weather conditions. Not to mention, you can get scaffold security systems to protect people and buildings from accidents. If construction crews are looking for scaffolding services in Sheffield or any other area, they will need to do their research first to make sure they are getting good quality equipment.
3 levels of scaffolding were used, so the scaffolding height came to about 16′ when it was fully assembled. This is where our employees really found the best benefit of their scaffold tool belt.
Wallpaper Installation
Once we had the access issue taken care of, the installation was fairly straightforward. Each strip was hung by two installers, the first on the top platform and the 2nd on the middle platform. Once the top portion was put in place the top platform installer would descend the floor to complete installation of the strip.
READ MORE: 5 Interesting Wallpaper Ideas for your Toronto Home
In conclusion
Through proper planning we were able to take a complex install and turn it into a regular day at work. If you'd like CAM Painters to tackle your complex wallpaper installation why don't you book a quote? We'd love to Transform Your Home With Lasting Beauty!