Unfortunately this is a more common experience in Toronto than it should be. Here's how you can avoid this occurrence and find a reliable painter…
Here's the backstory,
You found someone either through a recommendation of a friend, or perhaps on Facebook, or a lawn sign.
He seemed like a nice fellow when he met with you for the quote.
He gave you a price, you accepted it and booked in a start date.
The start date rolled around and no painter! No phone call, no text, no email – Nothing!!
Why would this happen in the first place?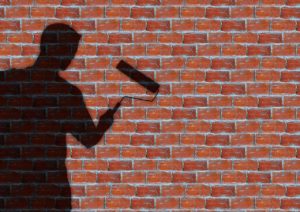 First off, it's very easy to call yourself a painting contractor.
Barriers to entry are very low, a vehicle, some brushes, rollers, roller trays and you can call yourself a painter. However, with such a low startup cost some people treat their "painting business" as a part-time hobby.
Many of these "painting contractors" will do cash only, so that they can avoid taxes and proper insurances, which places a lot of risk on the homeowner that hires them.
To sum it up, they don't have much invested in the process, so it's easy for them to quit on their customers and leave them high and dry.
How can you find a reliable painting contractor?
You can minimize the chance of this happening to you by doing your due diligence. How so?
Ask your painting contractor how many years they've been in business?
As a general rule of thumb, the more years someone has been in business, the more they are invested in the success of their business.
At CAM Painters, we've been in business for 16 years. We've invested thousands of dollars in equipment, so that we can provide a great customer experience.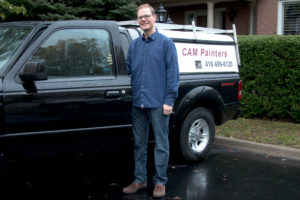 READ MORE: Which painting contractor offers the best value for my Toronto home?
Look for reviews and testimonials
People will always say good things about themselves, sometimes they can even get a couple of other people to say good things about them.
Look for reliable contractors with lots of social proof:
Make sure that they've got lots of Google reviews – not just one review from their mother! At CAM Painters, for instance, we currently have over twenty 5 star reviews and counting! Also remember that, in some cases, it is possible for businesses to remove a google review if it is inappropriate in any way. They shouldn't be able to remove legitimate negative reviews, though. Therefore, Google reviews provide a good insight.
They've got video testimonials – and not just written testimonials because those can be fabricated. We've got a number of video testimonials both on our YouTube channel and our website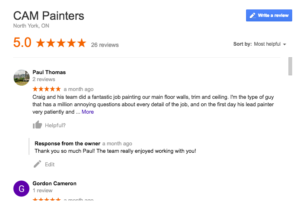 A reputable contractor will give a written proposal and back up their work with a written warranty
You want an agreement in writing, so that there is no gray area of "he said, she said". At CAM Painters we have a written proposal that goes over every aspect of the job from start to finish.
A reliable contractor will offer a written warranty on their work. At CAM Painters we offer a 5 year written warranty on both interior and exterior projects, as well as one hour of free touch ups each year, so that your house always looks it's best!
To sum it up…
If you do your due diligence when you select a painting contractor you can minimize surprises during the painting process, such as someone not showing up when they say they will, or any other myriad of missed promises.
At CAM Painters we strive to give an excellent painting experience from start to finish, so why don't you book a quote? We'd be happy to Transform Your Home With Lasting Beauty!