So you're thinking about bold colours for your Toronto home?  Bold colours can be tricky to paint with, so here's our list of tips to make sure that it goes smoothly.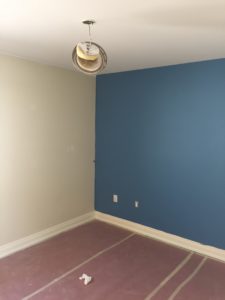 Coverage
Intense colours are notorious for bad coverage.  I've heard many stories about certain intense colours taking 7, 8 or more coats, and they still don't look right.
First, let's explore why this is so.  Paint comes in different bases starting with a white base, all the way to a clear base.  To these bases tint is added to achieve the desired colour.  For a very light colour, not much tint is needed and the the paint is able to get a lot if it's coverage from what's in the can of paint.
As we go to more intense colours, such as bright reds, bright blues, oranges, bright yellows a clear base is used.  If a white base was used, the colour would be muted and not bright at all.  When a clear base is used, the paint is getting all it's hiding power from the tint alone.  Therefore, in most cases the paint looks almost translucent and requires many coats to cover.
There are some steps you can take to minimize the number of coats required and end up with a better finished product.
First, Use a grey primer
If you use a grey primer, you'll be further ahead than just painting over the previous paint, or using a primer of any other colour.  The depth of grey should be matched to the depth of the topcoat colour – any reputable paint store should be able to advise on the particular depth of grey primer to use.
Second, Be careful when choosing level of sheen
Tint gives the paint more sheen, which doesn't matter for most colours.  However when dealing with bold colours with a lot of tint, the effect can be that an eggshell looks closer to a semi gloss, or a flat looks closer to an eggshell.  So choose your sheen level wisely and perhaps choose a less glossy sheen than you would otherwise.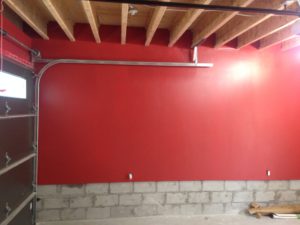 Third, Be careful with your brushing and rolling technique
The extra tint can cause the paint to leave more texture, or stipple than normal.  Basically, you'll want to be extra careful that you're not leaving any unevenness in the paint when you roll it out.  I would also brush and roll one wall at a time, just to be on the safe side, rather than brush the entire room and then roll.
Expect that you might need an extra coat with bold colours
Even with all these steps, you still might need a 3rd or even a 4th coat.  So make sure you've given yourself enough time that you can come back the next day for another coat or two.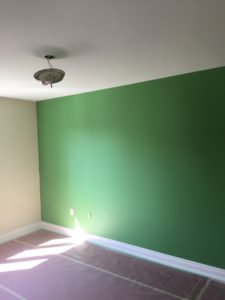 Some product recommendations
When it comes to bold colours we find that Benjamin Moore Aura offers the best coverage.  However this paint can be a little difficult to work with, be sure to follow all the directions on the can and ask the paint store clerk if you have any questions.
READ MORE:  Colour Selection 101
Finally
Bold colours can really transform a space!  If you'd rather leave the application to someone else why don't you book a quote?  We'd be happy to transform your home with lasting beauty!