Many people find choosing a colour for their home to be a very daunting task.  Here are a few tips to make sure that you're happy with your colour selection.
Start by looking at design magazines or design websites
Leaf through some design magazines and see what pictures you like.  When you see a picture that you like, cut it out and put it on a board.  Or if you're online save it to a "colour ideas" folder in Evernote, or some similar app.
As you accumulate some pictures you'll see what colours you're drawn to and that will give you a starting point for the next two suggestions.
Use a colour consultant.
Most interior designers offer colour consultation services.  Also, some paint stores have colour consultants on staff who will do an in-home visit.  We at CAM Painters have trusted colour consultants that we can refer you to if you need a recommendation.
These are wise investments, why?
you can be more confident with your colour selection,
you can step outside your comfort zone with your colour choice and still have the assurance that your colour selections will work with your existing furnishings,
having to repaint an entire room due to a bad colour choice will be more expensive than hiring a colour consultant in the first place.

Always do test patches
Get a sample paint tester from the paint store.  Most paint stores offer paint testers, which are small containers of paint (less than a quart).  They are usually priced around $10.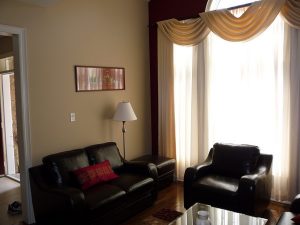 Once you get your colour sample it's important to do the following:
Do a sample that's large enough – make it at least 1'x1′
Apply 2 coats – you want to make sure that the colour is showing true and that the colour underneath is not showing through
Put samples on different walls – light hits each wall differently, even in the same room, so you'll want to put a sample patch on a couple of different walls
Look at the samples at different times of day – morning light, afternoon light and artificial light make colour look different, so you'll want to make sure you look at the sample in different lights
Once you've taken these steps you should feel very confident with your colour selection!
If you need any assistance with the colour selection process let us know, and why not schedule a quote for your painting project?  CAM Painters will Transform your home with lasting beauty!