If you want the paint work in your Toronto home to look the best it can, the preparation work that goes on before a can of paint is opened is critical to the finished product.
First thing, let's define levels of preparation and what type of customer each is geared towards:
Level 1 "Good" – this is geared towards someone wanting just the basic level of preparation, maybe someone needing a quick turnaround, or perhaps the space that is being painted is one that isn't of prime concern, or perhaps they just need the paint freshened up in order to put their house on the market

Level 2 "Better" – this is for a typical customer that wants decent workmanship, they want to have a great painting experience, they want their painted surfaces to look smoother than they do currently, but they don't expect or necessarily need perfection.

Level 3 "Best" – this is for someone who demands the best and realizes that it takes time to achieve this level of finish.  These customers are typically interior designers and people that like to keep their homes immaculate.
So let's go through the steps we use to properly prepare a typical interior paint job for painting:
Organization is key, we ensure that we have all the tools to properly tackle each job.  Proper tools ensure that things get done with maximum efficiency, and minimal disruption for the customer.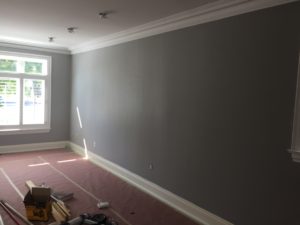 Flooring and furniture is covered and protected.  We use either dropsheets or rolls 
of paper for flooring protection, depending on which is most appropriate for the situation.  Furniture is covered with clean plastic sheeting.
If we are painting things to a "good" level, then all that's usually needed is a pole sand of the walls, and then a filling of all the visible holes and cracks.
If we are painting things to a "better" level, then we will pole sand the walls and ceiling, fill all the visible holes and cracks, but then in addition to that we will sand out sags and drips on the ceiling, walls and trim and we will fill in any noticeable divots or dents as well.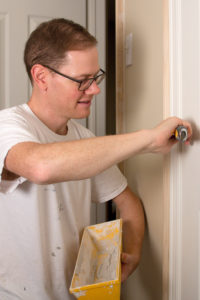 If we are painting things to the "best" level, then things get a little crazy!  We like to put an LED light on an angle at every area that is to be painted, that way, we can see all the imperfections that are in the ceilings, walls and trim.  The angled light causes shadows to be cast by every little dent or bump, which we can then sand or fill.  
One consideration that we deal with in achieving a level 3 finish is that many of the walls in older Toronto homes have been at some time painted poorly – either by a do it yourselfer or a less than skilled painter.  These walls typically have a lot of drips, sags and excessive roller texture.  To make these walls smooth it takes a lot of work, which has to be accounted for in our timelines and our pricing.
When we sand the walls we use a power sander attached to a vacuum, to eliminate dust at the source.  No one likes dust and it's best to eliminate it before it gets into the ventilation system and spreads throughout the house.
After we have done all this patching and filling and sanding, we still aren't done the preparation work, we still have to prime certain areas, and do a little more filling and sanding, just to make sure that the surface is ready to paint.  However, when we do the preparation work right, then the painting goes relatively quick in comparison and the end result looks fantastic!
The difference in price from the good paint job to the best paint job can be more than double.  So when getting paint quotes be sure to compare apples to apples.  If someone has been quoted a level 1 paint job, but then expects a level 3 – frustration will result, both for them and their contractor!
In conclusion, as you can see, a lot goes into a paint job, even before a can of paint is opened.  In some situations more time goes in than other times.  I like to make sure that this is communicated to my potential clients as clearly as possible, so they know the value that they are getting when they use my services.  Why don't you book a quote?  We'd be happy to Transform your home with lasting beauty!