Are you looking for a career in the trades with room to grow?  At CAM Painters we are always looking to grow our team by hiring the best and the brightest!
In this post we'll tell you what we're expecting of our new hires along with the benefits of working at CAM Painters.
What are the benefits of a career with CAM Painters?
We are looking for payroll employees, not subcontractors. That means that we cover liability insurance and WSIB, wheras subcontractors have to provide their own.
Full time year round employees. When we find great team members we like to keep them busy year round!
We offer health benefits after 90 days of employment. It's important that our employees stay healthy, so a portion of massages, chiropractic visits and others are covered.
Your opinion is valued at CAM Painters. We have regular team meetings where suggestions from our painters regarding processes, equipment and customer service can be discussed and implemented.
What we expect of our painters
Honesty
If you don't know how to do something, or if you don't know what's expected of you, please ask.  Different painting companies have different ways of doing things. So even if you've been painting for a long time, please ask about how we'd like things done.  There's no shame in asking questions.
Clean up after yourself
Cleaning up after yourself is essential when working in residential painting.  In fact, it's a non-negotiable, so leaving a messy job site is completely unacceptable.  We provide the best customer experience in the painting business and clean up is one of those key areas that we differentiate ourselves.
Keep it above the line
Ownership
Accountability
Responsibility
_____________
Blame
Excuses
Denial
As we work together, it's most productive to keep it above the line.  If there is a problem, what can you do to own the problem and what solutions can you offer to fix it?  Can you be accountable to your coworkers and complete the tasks you have promised you would? Can you be responsible to show up when required?
Blame, excuses and denial are not productive at all.  They halt creativity and give the customer a bad experience, which has ruined many businesses.
Some tips for the interview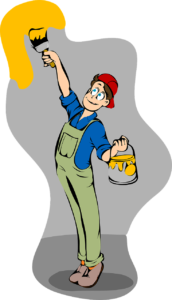 Show up on time – this really goes without saying.
Be neat in your appearance.  There is no need to wear a suit and tie, of course, but making sure your clothes are neat and you are well-groomed will go a long way in making a good first impression.
Print out your resume and bring it with you.  It's handy for us to have a printed copy of your resume to refer to, and take notes on.
Be honest with your answers – We're not looking for a know-it-all, but we are looking for people humble enough to take advice and be willing to grow.
On your first day
If we decide that there is a good fit and we'd like to invite you to a training session and/or a jobsite there are a few things to keep in mind:
Ask questions – you are starting a new position, with a new company.  Even if you've painted before, every company operates differently and has different systems and ways of producing work.  There will be a transition period and asking questions will help accelerate your learning curve.
Come with a good work ethic – this gives us something to work with.  If you are energetic and willing to get things done then we merely have to point you in the right direction.  Without a good work ethic the old adage "you can't steer a parked car" definitely applies!
In conclusion
We're always looking for all-star painters and you can either be an all-star painter or have the potential to be an all-star painter.  If you're looking for a career as a painter, why don't you apply? Together we can Transform Homes With Lasting Beauty!