On first glance when I tell customers that I average around $50 per painter per hour on my quotes, people are sometimes taken by shock.  One prospective customer even told me that it's like paying someone $100000 per year for painting (based on 2000 hrs working per year)! Unfortunately no, this simply isn't the case, so allow me to explain why we have a $50/hr charge rate (as of this writing in March 2018) for our services.
The painters that work in your home are skilled craftspeople
Our painters are skilled craftspeople with an eye for detail that the average person simply does not possess.  Some people think of painting as a low skill minimum wage type job, but if you pay low skill labour, you get low skill results.
Currently (as of March 2018), our average wage rate is in the low to mid $20s per hour.
However, we have employees, so we have additional costs that are incurred.  We pay WSIB on our employees, we pay EI, CPP and other source deductions. We also offer health benefits to keep our team happy and healthy!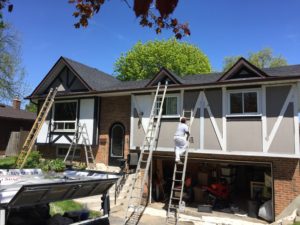 Why do we do this?  We could just use all subcontractors, like many other painting businesses.  Well, it adds value for you, the end client. Employees are covered under our WSIB and Liability Insurance policies, whereas subcontractors are not.  This gives you peace of mind, that if (heaven forbid) any injuries or accidents occur while on your property you are not liable.
So, when all is said and done, our average wage rate plus our labour burden puts our cost per hour at an average of $28.
We don't skimp on the extra job-related costs
With any paint job there are little extra job costs.  A roll of plastic to cover furniture. A roll of paper to cover floors. Caulking and patch to fill holes and gaps.  Drywall tape to ensure that cracks are repaired correctly and don't return. Roller sleeves and brushes. These are all little in and of themselves, but they add up to 5% of the overall cost of the job
We invest in our business to make it a great experience for our clients
Any business has overhead expenses.  Just because we don't have a retail space, doesn't mean that we don't have overhead.
We have ladders!  We have step ladders, extension ladders, ladders that will fit into stairwells, extension ladders that will fit into elevators for condo work, ladders for uneven ground.  
We want to make sure that we can access all parts of your home in the safest and most efficient manner. We easily have thousands of dollar invested into many different ladders, so that we can transform your home.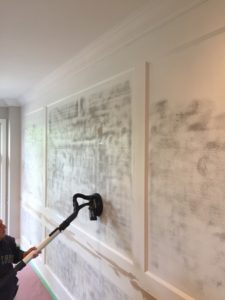 We have proper tools.  Painting tools aren't just a brush, roller and roller tray.  We have dropsheets, drywall repair tools like mud pans, drywall knives.  
We have dust extractors so that when we sand dust doesn't get through your home.  We have air cleaners that filter the air in a 400 square foot room every 10 min. One dust extraction system that we use is worth over $3000.
We have vehicles to transport equipment to your home.  For us, the average cost of running a vehicle is in the range of $8000 – $10 000 per year
We have a storage unit to put our equipment in when it's not in use.  This costs us another $2400 per year.
When we total up our numbers for the year, our overhead generally runs 20% of sales when all is said and done.
So how do the numbers shake down?
$50 per hour charge rate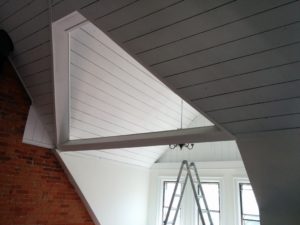 Minus $28 per hour average labour cost (wages plus associated costs)
Minus 5% for assorted sundries, which equals $2.50 per hour
Minus 20% for overhead, which equals $10 per hour
So when you do the math we net out an average of $9.50 per hour profit, which gives us a profit margin of 19%.  So, if we do $300 000 in sales in a year our net profit is just under $60 000.
Why should you as a client be concerned if we're profitable?  Profit keeps us running our business and doing excellent work for our wonderful clients.  When we stay in business we can honour our warranties and stand behind our work.
So if you'd like CAM Painters to Transform your home with lasting beauty, why don't you book a quote?