So you're thinking of selling your Toronto home, you've looked at different home buyer companies such as We Buy Houses in San Antonio and now you've realised that it might be the time to update your house. Here are some painting projects that can pay big dividends in resale value! Obviously, if you can paint the place from top to bottom that would be the best for commanding top dollar in the real estate market, but that's not always feasible. Sometimes you need to sell your house as fast as possible so don't have time to paint everything. If this is the case for you then you may want to consider home seller financing as it could help you sell your home quicker, see https://www.amerinotexchange.com/selling-a-home-how-about-considering-home-seller-financing/ for more. But, if you're happy for a quick paint job then here are our top picks for bang-for-buck projects when selling your Toronto home. If you do decide to sell, you may want to check out an independent home buying company such as We Buy Houses, who aim to make selling your home a smooth, stress-free process for you. However, if you own a rental property and need to sell it on, it's not as simple as selling your own home. When selling this sort of property, it might be better to read this selling rental property guide on roofstock to understand the process better. However, the home might still need updating and redecorating.

Paint any area that is looking old or deteriorated
You want people's first impressions to be that your home is clean and well kept, so if things are looking a little old and tired, freshen those up first. If the house is clean and fresh prospective buyers will assume that you've taken care of the place and be more willing to put in an offer. If you have some leftover paint that's less than a year old feel free to use it to freshen things up. If it's over a year old, it's best to get some new paint.
Paint your wood panelling
If you have an older home, it might have dark wood panelling. If the panelling is painted a light colour it can really make the space look bigger and more open. This is especially helpful in basements which typically have very small windows and limited natural light.
Here's a blog post on the how-tos of panelling painting:
What can I do with the wall panelling in the basement of my Toronto home?
Paint your kitchen cabinets
There's no quicker way to update the look of your kitchen than painting the kitchen cabinets. This is way more economical than cabinet replacement in most cases. At the same time you can update the hardware (door handles and drawer pulls) too. With painting your kitchen cabinets the colour options are limitless.
Here's a blog post on how we paint kitchen cabinets:
Paint or Renovate? What's Best for the Kitchen in Your Toronto Home?
Paint your railings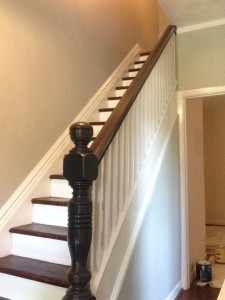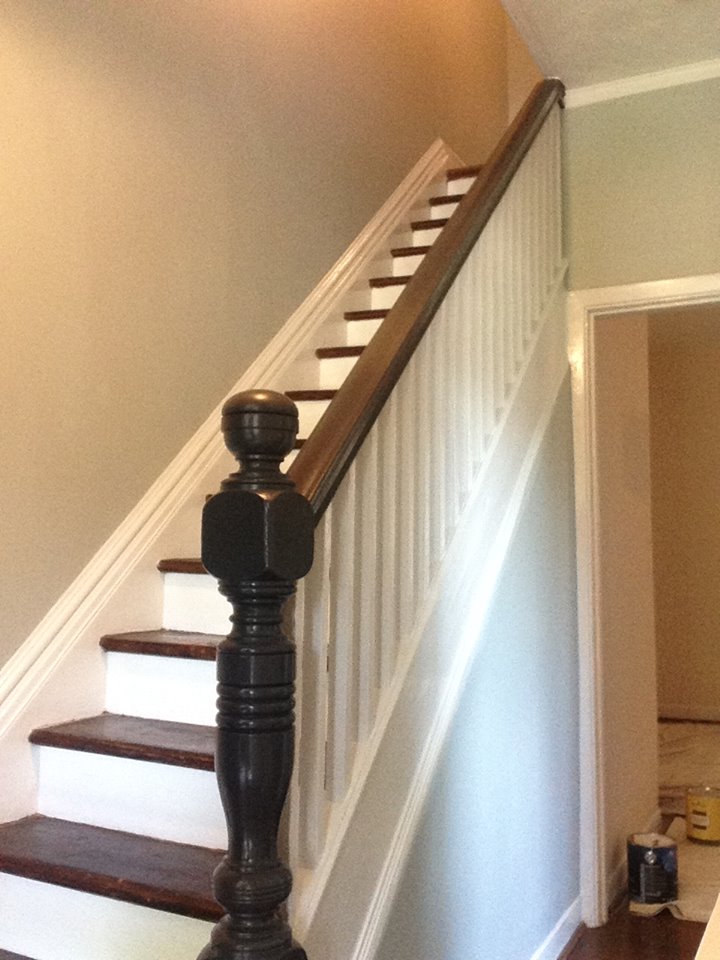 Many people have dated stair railings in their Toronto home, these can updated with some paint! If you still have varnished railings in a dated lighter finish, you can transform them with a sophisticated 2-tone colour scheme as you can see in the blog listed below:
Toronto Home Stair Railing Transformation Project Guide
Painting can make the difference in selling your Toronto home
Many real estate agents will tell you that painting is one of the best things that you can do so that your house will sell quickly and for the best price. If you'd rather let us do the painting for you why don't you book a quote? We'd be happy to transform your home with lasting beauty!