Many people like the look of old stained and varnished wood, especially in older Toronto homes.  But what happens when some of it is damaged and needs to be replaced?  Can the new wood be made to look like the old existing stained and varnished wood?  Yes it can!
Here's the process that we used to match new wood to old
We matched the stain at the paint store
We got a sample of the old wood and a sample of the new wood and took it to the paint store for matching.  Patience is key with this process.  Our paint store requires 48 hrs for a stain match.
We sanded the trim
In order to ensure that the stain is absorbed evenly into the wood we gave the entire surface a light sand.  This opens up the grain and allows the stain to penetrate evenly into the surface.
Please note that we were staining oak, which is a very dense, hard wood.  Because oak is such a dense wood conditioner is not needed, however when dealing with softer wood, such as pine, a wood conditioner is necessary.  Wood conditioner is a clear base coat that evens out stain absorption.
We stained the trim
The stain that we chose was a rubbing stain, meaning that it is rubbed into the surface with a rag, rather than brushed on the surface.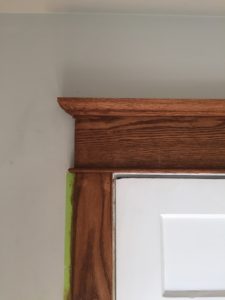 When working with stain it's better to apply two thin coats rather than one thick coat.  If the stain is applied to thick it can dry blotchy, which we want to minimize, of course.
This particular wood took 3 coats to get to the colour of the existing old wood.
We varnished the wood
The stain needs a minimum of 24 hours before it can be varnished.  This allows for proper drying of the stain before the final step of varnishing.  We matched the gloss level of the existing varnish, which in this case was a semi-gloss.
The first coat of varnish absorbed in to the wood and resulted in an uneven sheen.  So we ended up applying 2 coats which gave us a nice, even result.
In conclusion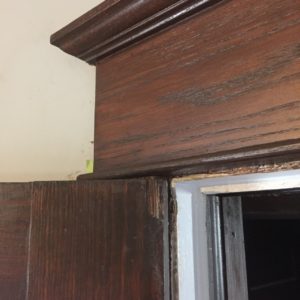 We managed to get a fairly good result, with the new wood trim matching the old wood trim as close as could be expected.  So If you'd like to keep the look of natural wood, but want repaired areas to look like existing areas, why don't you have CAM Painters give you a quote?  We'd be happy to Transform Your Home With Lasting Beauty!