Let's say you're looking at buying a house, but it's got nicotine stains on the walls and ceilings. Or perhaps there are lot's of cooking stains in the kitchen. Will paint cover over this? Will paint eliminate the smell?
Well, the answer to these questions is, it depends…
How extensive are the stains?
Nicotine smell gets everywhere! We can eliminate the smell coming from the ceiling, walls and trim.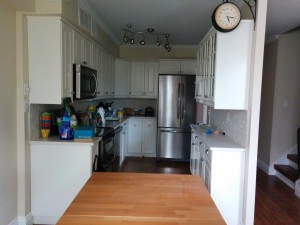 However, the nicotine smell can get into the carpet and other flooring, and throughout the HVAC system, so be sure to address these areas as well. This could result in needing your carpet to be replaced using somewhere like Carpet Now. Depending on where you're based, it'd be good to search for a proper carpet cleaning service in this instance. If, for example, you're reading this from the other side of the border down in sunny California you could try googling "Carpet cleaning in Aliso Viejo" to find your best options, or for those more native to Canada, try "Carpet cleaning in Toronto", or "Rentable carpet cleaner." There's plenty of options out there to remove these stains, but for today we'll focus on the ones on the walls. Why people smoke is beyond me. At least use a vape with the best 510 thread battery, it can even be used with more pleasant flavours or even cannabis. So in addition to painting, it would be wise to budget for having the ducts cleaned as well as replacing the flooring. In extreme cases, we can put a stain sealer on the sub floor before new flooring goes in, be it installed by https://cuttingedgeflooringservices.com/tile-installation/ or other companies.
Cooking stains generally are easier to deal with. Kitchens usually have hard surface flooring that is easy to clean, so cooking smells and stains can be eliminated with a thorough cleaning.
How do we deal with stains on painted surfaces?
If there is heavy staining we wash the ceilings, walls and trim with TSP, which is a bleaching agent, or Simply Green, which is a mildewcide. After we wash the stained areas we allow them to dry and then we apply a stain-sealing primer, which we'll talk about next.
If the stains aren't too heavy, we'll go directly over with a stain-sealing primer, and we'll skip the washing step.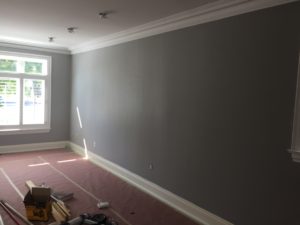 Which stain-sealing primer do you use? Generally shellac-based primers work the best on stains, and we prefer Zinsser BIN. There are oil-based and latex-based stain-sealing primers, but we have found that they don't work as well as shellac-based.
After we have completely sealed the affected areas with primer, then we can topcoat with whatever paint we choose.
What if I choose just to paint directly over the stains?
If you choose to just paint directly over the stains with either oil or latex-based paint, the stain will bleed through the topcoat. This basically means that the stain will show through whatever you paint it with, which is why we need to properly clean the surface and/or prime the surface to seal it.
In conclusion
Painting a house with either nicotine or cooking stains can be done, just be aware of the extra work involved and budget accordingly.
If you'd rather have CAM Painters remedy this situation for you why don't you book a quote? We'd be happy to transform your home with lasting beauty!