Many older Toronto homes have stained and varnished trim, if I have newer trim installed can this be matched to the existing trim?

Stained and varnished trim highlights the beauty of the wood, so it's a shame to paint over it. Here is our process to get you the best result for matching new trim to existing trim.

Make sure your contractor/renovator uses the same species of wood

If you're going to have new trim installed, make sure it's the same species of wood, so there's similar wood grain patterns between old and new trim. Most older Toronto homes with stained wood have oak trim installed, so you'll want the new trim to be oak as well.

A couple of things to be aware of when you're having your new wood installed:

Carpenters will occasionally use glue, if they can't access the area with a nail gun. If any glue gets on the surface it will impede stain absorption, this will result in lighter spots where the stain hasn't soaked in as much. Even if the glue is wiped off immediately after it touches the wood it still soaks into the grain and will cause issues.

If you are having oak installed be aware that it's an extremely hard wood. Therefore, inspect the surface to make sure your carpenter has sunk all the nail heads beneath the surface.

Mind the gaps! You'll want your carpenter to get gaps as tight as possible. We can fill small gaps with wood filler, but the wood filler will take the stain differently than the wood will. So for the best results the less filler we have to use, the better.

Stain matches take time

In order to do a stain match we need two items:

a piece of the existing stained and varnished trim
a sample of the new wood that's being installed
Once we have these 2 items we take them to the paint store for matching, which typically takes 3 days. Why so long? It takes time for the stain to dry between coats, and it usually takes multiple coats of stain and varnish to match the existing trim. Keep in mind that nothing is perfect in the world of wood staining, we are matching new wood to old and although we can get a close match, it might not be perfect.

Now the fun part! Time to stain and varnish your wood!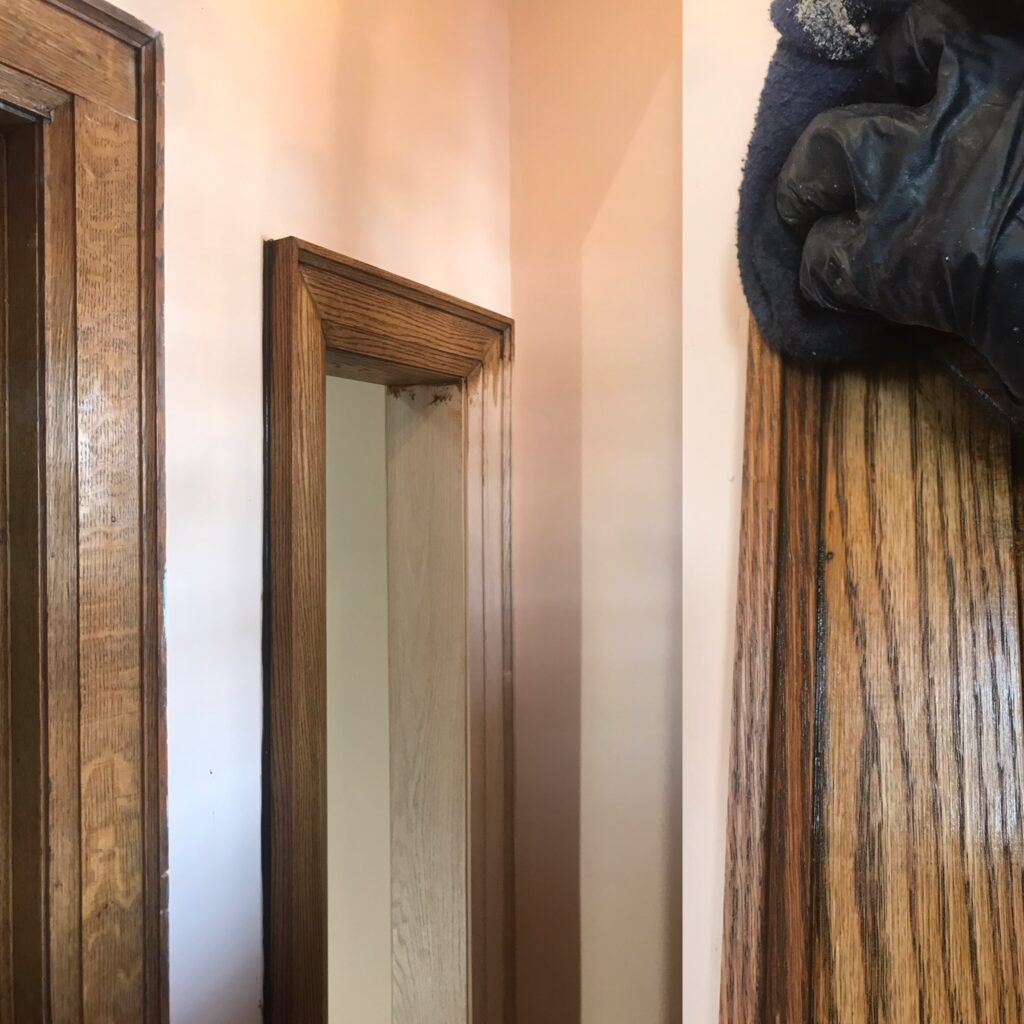 When there are no other trades working in your house we can schedule to do the staining and varnishing. Why? Other trades create dust and this can ruin the finish on the wood. When we arrive there is a process that we follow to stain and varnish your wood to get the best results:

We inspect the trim work and make sure there's nothing that will cause uneven stain absorption, ie. carpenters glue, damaged wood, water stains on the wood
We fill all the nail holes and gaps with wood filler
We sand down the wood filler once it's dry
The surface and surrounding areas are vacuumed – dust is the enemy of a proper wood finish
The wood is wiped with a tack-cloth – it's basically a sticky cloth that wipes any residual drywall dust or sawdust off the surface
We apply the stain by brush
The stain is given some time to soak in – usually ranges from 30 sec to a few minutes
The excess stain is wiped off the surface
The stain is given time to dry overnight
We brush on 2 coats of varnish the next day – with a light scuff sand and tack-cloth between coats to make sure we have a smooth finish
In conclusion

It's possible to finish new wood to match existing stained wood. So why don't you book a quote? We'd love to Transform Your Home With Lasting Beauty!