At CAM Painters we love transforming the exterior of Toronto homes with lasting beauty. Here are 3 exterior ideas for your Toronto home that you might not have considered. Among them are simple ideas that will enhance the look of your home!
Exterior Idea 1: Scripted House Numbers
We've had requests for scripted house numbers. Rather than hire a sign painting artist we decided to print the scripted address in vinyl, similar to what you'd see on the side of a commercial vehicle. The installation process is very similar to wallpaper installation, so it was right up our alley! Here's the process from start to finish!
Exterior Idea 2: Paint your Front Door a Bold Colour!
A front door is a great place to introduce a hit of colour. When there is a bold colour on the front door people's eyes are attracted to it, and where their eyes are attracted they will go. Of course, you could look at getting one of the many coloured exterior fiberglass doors instead of painting your old door, especially if your door is outdated or damaged. However, if it is in good condition, painting it should work fine. You could also take a look at adding something like these pilasters, there are many different styles you could pick from, but they would also help to attract people's eyes to your front door. The easiest thing to do though would probably be to paint the front door. So by painting your front door a bold colour you will attract people to the place you want them to go! Just a word of warning, don't forget to match the color of your door to the colors of things you can change as easily, like your Nabors Garage Doors otherwise it may cause your exterior to look ugly if the colors don't go well together. Here are a couple of great examples of a bold front door colour: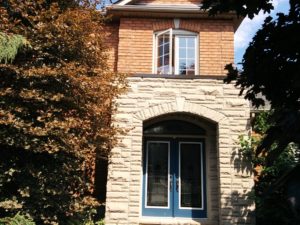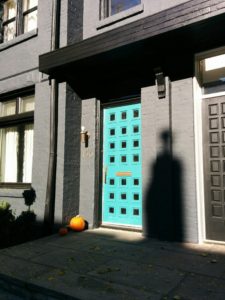 Exterior Idea 3: Paint your vinyl or aluminum window frames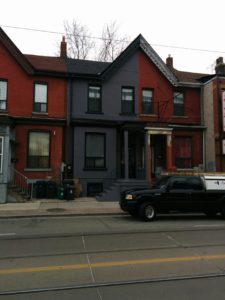 A lot of people are wanting to change, or update, their house's windows. If you are wanting to get new windows then you could check out someone like MWT Windows to get you those new windows that you've always wanted. Once you have them installed then it would be a good idea to make sure that you have them painted in the right colour. Don't forget that you'll want to make sure that the upkeep and maintenance of these windows are in check. Today's paint and primers are very advanced and they will adhere on surfaces you might not have thought of. So, if your aluminum or vinyl windows are looking a little faded and tired, why don't you have us paint them? Or, if you just want a colour change and don't want to replace the windows, why don't we paint them? READ MORE: 3 reasons to paint my maintenance-free windows
Any more ideas?
These are just a few exterior ideas of the many possible things to paint and enhance your home, I'm sure you can come up with more. If you want CAM Painters to do the legwork to implement one of these ideas why don't you book a quote? We'd be happy to transform the exterior of your Toronto home with lasting beauty!