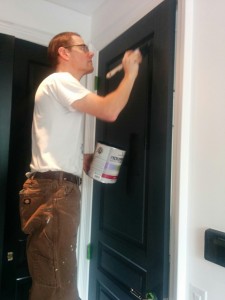 I hear many different recommendations of how many estimates to get when hiring a painting contractor, or any other contractor for that matter.  Let's address that question….
Personally, I think you should get as many estimates as you need to feel comfortable with the contractor you select.
Some people need to get as many as 10 estimates, and some people only need to get 2 or 3.
It would be good to start your search with gathering the names of 10 different painting contractors. This can be done by:
Asking friends or neighbours who they have used – word of mouth is generally the best way to find a contractor
Going to your local paint store and asking for their recommendations
Googling "Painting contractor in Toronto"
When asking friends or neighbours you can ask them about the painter's cleanliness, punctuality, or anything else that's important to you.  After all, you want to have a great painting experience, and you have a great painting experience when your painter is attentive to your needs.
When searching on Google for a painting contractor, see how many positive Google reviews they have received.  This is shown by the stars beside their name in the listing, 5 stars is good, no stars means they haven't gotten enough reviews yet to have stars beside their name.
The next step after you have found some potential painting contractors is to go to their websites and look for a few different things:
See if they have any testimonials from satisfied customers.  Many painting contractors have written testimonials from past clients, which is good.  But do they have any video testimonials?  Most people are very shy when asked to speak on video, so if they do a video testimonial they must be a raving fan!
Do they have WSIB and liability insurance in place?
Have they done work in your area before?
You can also look for any pertinent blog posts about something that is important to your painting experience.
After you have done this, you might only need to book a time with 2 or 3 painting contractors, or maybe more.
The important thing is that you schedule estimates with painting contractors that you feel comfortable with and would potentially like to do business with.
Hope this helps you with selecting your painting contractor.  Feel free to schedule an estimate with CAM Painters and Transform your home with lasting beauty!